Finding Home
There is no better place for visitors to view the centre of the city and its architecture than from the Hull Dance studio space at the top of 22 Alfred Gelder Street. So when Hull-based JoinedUp Dance Company was joined for two days of creative collaboration by members of Eliot Smith Dance Company from Newcastle, their first impressions of the city were of its impressive architecture. And then there's its creative energy. Hull Dance shares a building with The Feral Art School, so apart from the airy, bright space at the top of the building, there are art classes and individual studios buzzing with creative activity.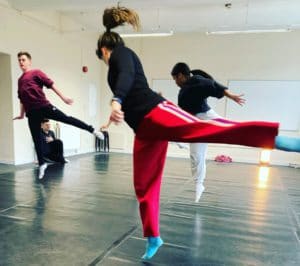 Our two-day collaboration marked the end of the first section of JoinedUp's Finding Home project. This has been in planning for nearly two years, delayed by the pandemic. The two companies were introduced to each other's work in 2019 and since then have continued a dialogue leading to this collaboration. Apart from learning from each other's practice, we want to develop a link between Newcastle and Hull through contemporary dance. Since September 2021, we have been working with community groups in both Hull and Newcastle, exploring the theme of Finding Home and using poems by Simon Armitage, Imtiaz Dharker and Philip Larkin to piece together the individual and collective responses to displacement and change. This way of working builds on the mixed media pieces created by JoinedUp in partnership with the BBC and poets Simon Armitage, Imtiaz Dharker and Jackie Kay in 2017, 2018 and 2019. The JoinedUp team consists of three dancers, Mark Pearce, Effie McGuire Ward and Sam Baines, video motion artist Kirstie Henderson of BraveDay, composer Joe Roper and director Jackie Goodman. The material collected in the workshops provide connections with asylum seekers, young dancers, people living with MS, classical Indian dance students and older adults which we hope to maintain as we work on the material and shape it into a new piece of performance.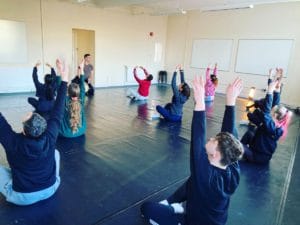 Our partnership with Hull Dance enriches our practice by extending our network of dance contacts. The use of the Hull Dance studio for our two-day workshop enabled us to host our visitors in the knowledge that we had access to a professional space in the centre of the city.
Eliot Smith Dance Co members are dancers Yamit Salazar and Lian Draycott and artistic director Eliot Smith. During the two days we spent together, we reflected on the outcomes of the workshops, edited by Kirstie Henderson into a film incorporating workshop footage, poetry, visuals and an original score by Joe Roper. Dance companies have individual ways of working, so we used the opportunity to begin to collaborate on creative responses, exploring the process of working together. Using the Hull Dance studio also enabled us to invite some of the young professional dancers from the city to join us for morning class and to share the results of our creative explorations with other members of the arts community.
We are hoping to make the new work in the summer, when the view from the top floor will be different again. We will be welcoming Eliot Smith Dance Co back to work in the Hull Dance studio for a substantial period of development. And we are planning a performance – watch this space!